The winners of the ALA Youth Media Awards will be announced on Monday morning at 8 am PT (11 am here in NC). Here's the link if you would like to watch in real time on Monday:
http://ala.unikron.com/
Therefore, I am taking a break from my best of list to post about the Newbery and Printz groups that I ran this year and make my own predictions.
Mock Newbery
This was the second year that I facilitated a Mock Newbery group for my public library. Some members were new and some participated last year, so it was a good mix of experience and new ideas. The group met for our final discussion on December 12. Below is the list we discussed.
Aru Shah and the End of Time by Roshani Chokshi
Baby Monkey, Private Eye by Brian Selznick and David Serlin
Be Prepared by Vera Brosgol
Blended by Sharon Draper
Front Desk by Kelly Yang
Ghost Boys by Jewel Parker Rhodes
Peter and Ernesto: A Tale of Two Sloths by Graham Annable
The Miscalculations of Lightning Girl by Stacy McAnulty
After two hours of discussion and voting, consensus was reached. The group picked Ghost Boys as their winner, with Baby Monkey, Private Eye, Blended, Front Desk and The Miscalculations of Lightning Girl as their honor books.
My Newbery Picks and Predictions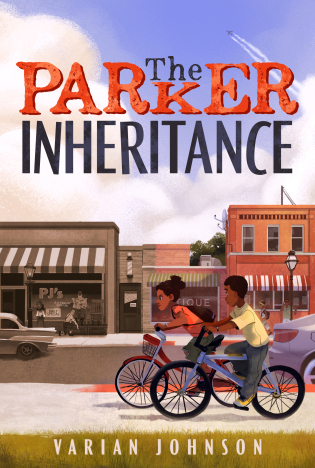 Personally, I would pick either
The Parker Inheritance
by Varian Johnson or
The Poet X
by Elizabeth Acevedo. I think
Cardboard Kingdom
by Chad Sell, et. al.,
Hey, Kiddo
by Jarrett Krosoczka,
Small Spaces
by Katherine Arden, and
The Prince and the Dressmaker
by Jen Wang would be excellent honor books.
As for what is likely to be picked, popular choices online seem to be Front Desk, Sweep: The Story of a Girl and her Monster by Jonathan Auxier, The Book of Boy by Catherine Gilbert Murdock, The Assassination of Brangwain Spurge by M. T. Anderson and Eugene Yelchin, Louisiana's Way Home by Kate DiCamillo, The Journey of Little Charlie by Christopher Paul Curtis and Snow Lane by Josie Angelini.
What will the committee pick? Who knows?! There are a ton of good choices this year and no end to opinions. Chances are good that the Real Committee will have a tough time reaching consensus and the winner may be safer than we would like. Or maybe they will go way out and pick a graphic novel or horror book or older reader book. We'll know soon enough.
I am a bit tired of hearing the argument against older books like Hey, Kiddo and The Poet X. This comes up every year. Many want the overlap between Printz and Newbery to be removed, but the Newbery is almost 100 years old and many of the early winners were on the older reader end of the spectrum, so maybe we should just get over it.
Mock Printz
This was the first year for my teen Mock Printz group. Some had a hard time getting a lot of reading done as well as their studies, but they tried really hard and did a decent job of it. We met on December 13 and discussed these books: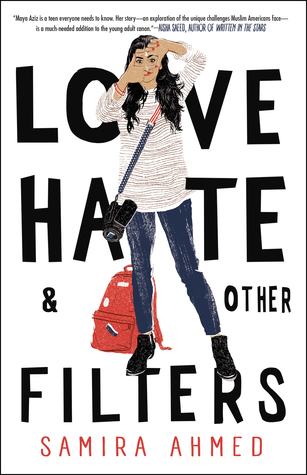 After the Shot Drops by Randy Ribay
As You Wish by Chelsea Sedoti
The Astonishing Color of After by Emily X. R. Pan
The Belles by Dhonielle Clayton
Dread Nation by Justina Ireland
Fatal Throne by Candace Fleming, et. al.
Love, Hate & Other Filters by Samira Ahmed
Mary's Monster: Love, Madness and How Mary Shelley Created Frankenstein by Lita Judge
Picture Us in the Light by Kelly Loy Gilbert
After two hours of discussion (and some tooth pulling to get them to talk), consensus was reached. The group picked Love, Hate & Other Filters. Their honor books were The Astonishing Color of After, Fatal Throne and Picture Us in the Light.
My Printz Picks and Predictions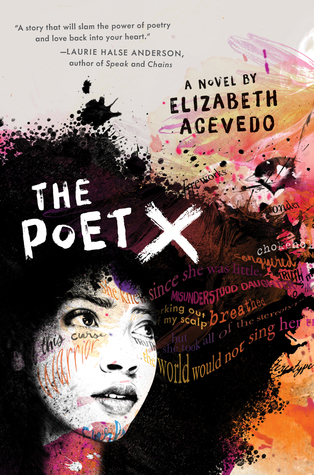 My pick for Printz is
The Poet X
by Elizabeth Acevedo. This book blew me away both as a print book and an audio. If it doesn't win a few awards, I will be very surprised. My honor books would be
Hey, Kiddo
,
Dread Nation
,
Darius the Great is Not Okay
by Adib Khorram,
Tess of the Road
by Rachel Hartman,
Blood Water Paint
by Joy McCullough,
Girl Made of Stars
by Ashley Herring Blake and
The Lady's Guide to Petticoats and Piracy
by Mackenzi Lee.
Likely to be picked are The Poet X, Hey, Kiddo, and The Astonishing Color of After. Online favorites include these three, plus A Very Large Expanse of Sea by Tahereh Mafi, Mary's Monster and The Prince and the Dressmaker.
Other Awards
Since I was on the Great Graphic Novels for Teens committee a few years ago, I love to predict that award, too. I'm sure they will pick Hey, Kiddo, The Prince and the Dressmaker, Be Prepared and Cardboard Kingdom for the top ten. I also expect Illegal by Eoin Colfer and Unwanted by Don Brown will make an appearance. If I were still on the committee, I would add Crush by Svetlana Chmakova, Sanity and Tallulah by Molly Brooks and Check, Please!: #Hockey by Ngozi Ukazu.
For Geisel, I would choose Meet Yasmin! by Saadia Faruqi, with honors for Mr. Monkey Bakes a Cake by Jeff Mack and See Zip Zap by David Milgrim.
For Caldecott, I'm hoping for either Dreamers by Yuyi Morales or Drawn Together by Minh Le and Dan Santat to win. I would also be happy with Julián is a Mermaid by Jessica Love, Ocean Meets Sky by the Fan brothers, or Between the Lines: How Ernie Barnes Went from the Football Field to the Art Gallery by Sandra Neil Wallace and Brian Collier won. It would be truly hilarious if The Wall in the Middle of the Book by Jon Agee took the award.
As for the rest, I'm happy to wait and see....and then read them all!